DETAILS
Hit refresh on dull, thirsty skin by feeding it active ingredients captured at the height of their potency. Powered by HPP technology, this fridge-fresh mask delivers a restorative mix of Spirulina, Caffeine, Organic Cucumber and Hyaluronic Acid (without harmful preservatives or chemicals). The result? Skin feels plumped, soothed and balanced with a heavy dose of hydration. HPPY skin days are here.
Ingredient List

Aloe Vera, Manuka Honey, Kaolin Clay, Raw Unpeeled Organic Cucumbers, Squalane Oil (Derived from Olives), Tocopherol (Vitamin E Oil), Avena Sativa (Oat) Kernel Flour, Spirulina, Hyaluronic Acid, Coffeeberry Energy.
View full details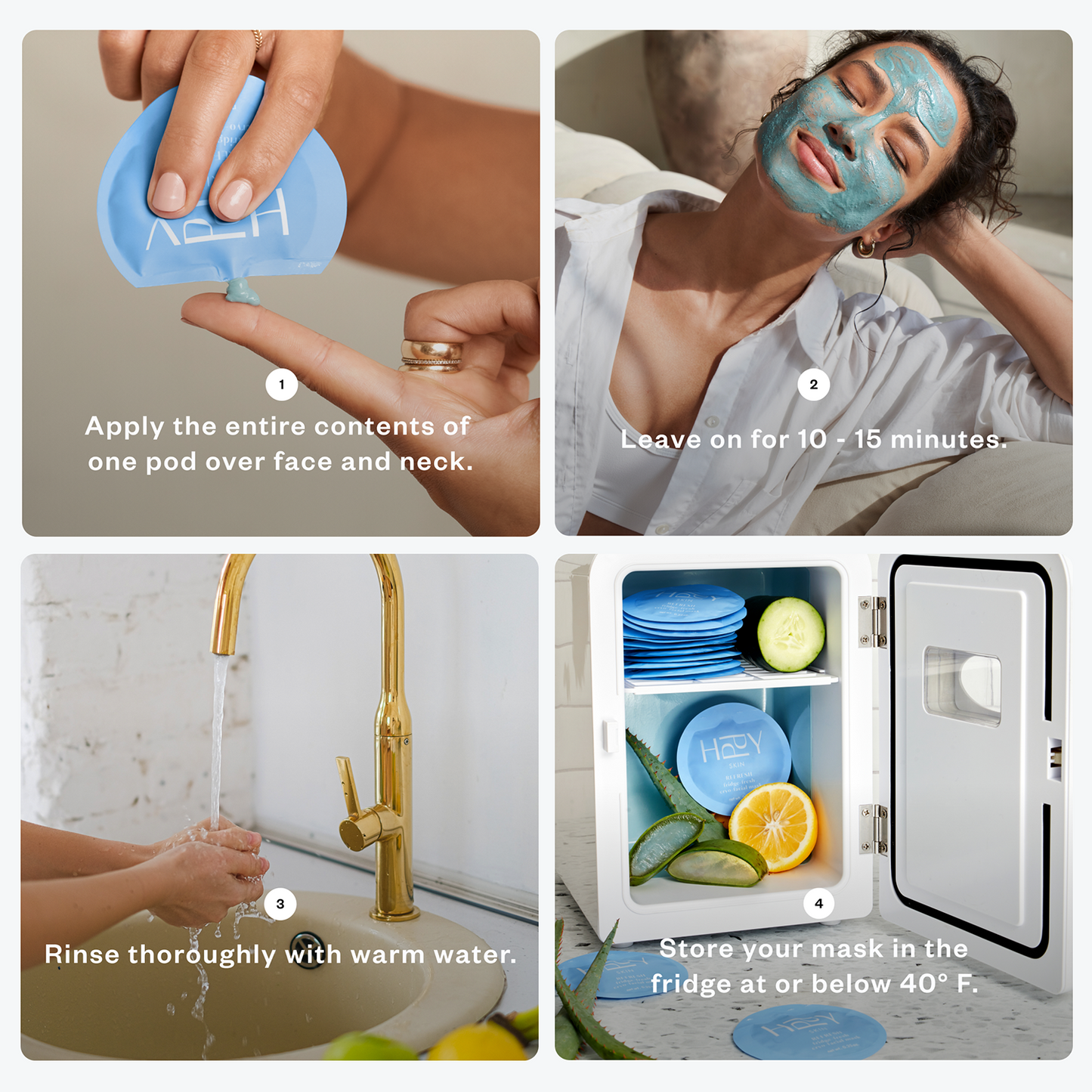 How to Use
We're not a regular mask—we're a cool mask. Making the switch to our ultra-hydrating formulas is easy. The only difference? HPPY Skin lives in your fridge, not on your shelf. Here's how to use our face masks for radiant results:
1
Apply the entire contents of
one pod over face and neck.
HPPY Tip: Gently cleanse and pat skin dry before the mask goes on.
2
Leave on for 10 - 15 minutes.
HPPY Tip: Why not take a moment to chill while your skin does? You deserve it.
3
Rinse thoroughly with warm water.
HPPY Tip: If you have dry or thirsty skin, leave on for an extra 4 minutes.
4
Store your mask in the fridge—
not the freezer—at or below 40°F.
HPPY Tip: The FDA recommends keeping your refrigerator no warmer than 40 degrees Fahrenheit to keep foods from spoiling. We like to keep ours between 35° and 38°F.
HPPY Meal
We only use fresh and recognizable ingredients to ensure our formulas are packed with the most skin-loving actives and nutrients.
Caffeine
Caffeine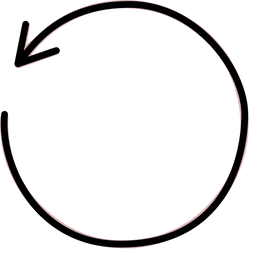 Anti-Aging
When applied topically, caffeine can act as an anti-inflammatory agent, reducing redness, puffiness and inflammation. It also possesses antioxidant powers, helping to protect skin from free radical damage (which can lead to fine lines and wrinkles).
Spirulina
Spirulina
Hydrating
This blue-green algae is abundant in vitamins, minerals and antioxidants that nourish, hydrate and strengthen skin. Rich in chlorophyll—a known detoxifier— it can also help to clear and calm breakouts.
Hyaluronic Acid
Hyaluronic Acid

Balancing
Hyaluronic acid is a powerful ingredient that can help to balance your skin. It's a natural humectant which means it attracts and retains moisture, keeping skin feeling hydrated and looking plumped.
We believe in nourishing and rejuvenating your skin with ingredients that are as close to their natural state as possible—to deliver maximum potency and pure radiance.
Frequently Asked Questions
What is HPPY?

We are the only skincare brand with fridge-fresh ingredients preserved at the height of performance — without preservatives. Refrigerate your way to fresh, HPPY skin.
Why is HPPY's formulation process different?

Our formulas only utilize fresh, highly potent, active skincare ingredients at levels proven to be clinically effective. Although you may think this is standard industry practice, most skincare products rely on the following formula: 97% water + 3% filler, actives, preservatives, stabilizers, emulsifiers, fragrance etc. What you see in our ingredient list is totally transparent. Everything on our label is for you and your skin's benefit—never filler, hype or watered down.
How does HPPY not have any preservatives?

We use a piece of technology called HPP (High Pressure Processing). It offers us many amazing benefits, one of them being our shelf-life + product safety without the use of preservatives. Read more on our How it Works page.
Why does HPPY need to be refrigerated?

Because we formulate with only fresh and highly potent skincare actives, refrigeration ensures both ingredient integrity and improved shelf-life—so our formulas stay safe and super efficacious.
What is HPPY's shelf life?

Our Refresh Mask has a shelf life of 9 months. There will be a best by date on all individual single-use pods for the most accurate information.
Does HPPY test on animals?

Absolutely not—we test on our (human) founder + formulators.
Need more information?

Learn more about how HPPY Skin works here.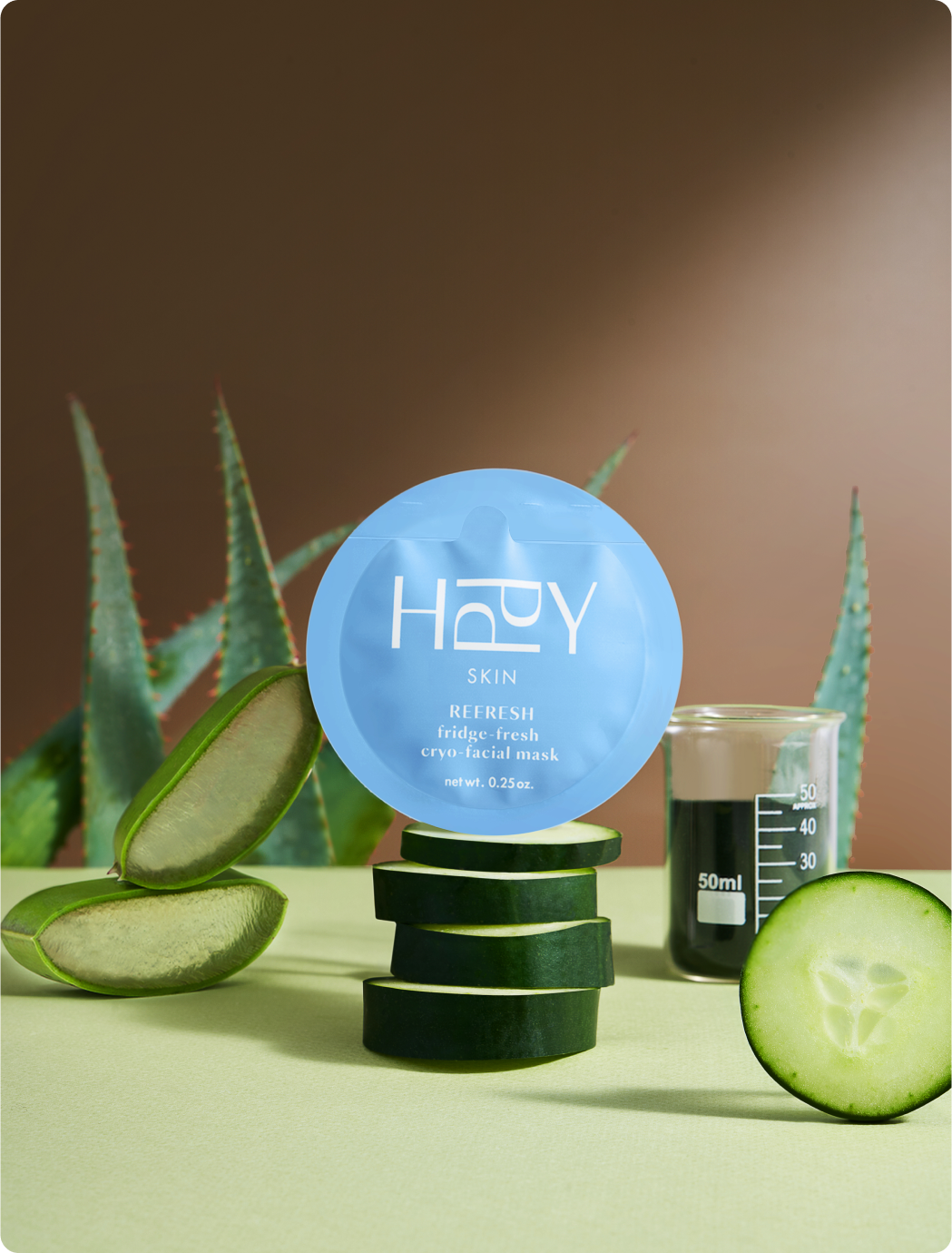 Most skincare products on the market are made up of 97% water with the remainder being a mix of fillers, preservatives and active ingredients (if they don't get watered down). With our HPP technology, we're able to deliver potent formulas using high volumes of powerful, healing, undiluted superfoods. In other words, it's cooler to be chilled.
Learn More